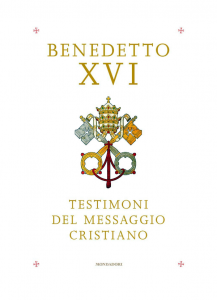 Sulla copertina del libro del papa Benedetto XVI, Testimoni del messaggio cristiano, campeggia l'emblema della Santa Sede disegnato da noi per Wikipedia (si veda Emblem of the Holy See.svg).
All'interno della sovraccoperta si legge:
Stemma di Città del Vaticano
Elaborazione di Beppe del Greco
Tralasciando il fatto che non è uno stemma (manca lo scudo), ma un emblema, sono assenti come di consueto i riferimenti a dove l'immagine originale, successivamente elaborata, sia stata presa.
Autore: papa Benedetto XVI.
Titolo: Testimoni del messaggio cristiano.
Editore: Mondadori, 2012.
ISBN: 978-8804615972.