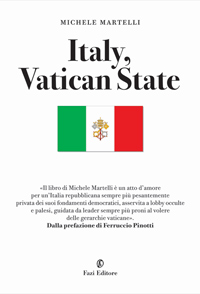 Picture of the Emblem of the Holy See in the flag in the front cover.
Bibliographic level: policy and political science essay.
Author: Michele Martelli. li>
Title: Italy, Vatican State.
Publisher: Fazi, 2010.
Series: Le terre (The lands).
ISBN: 9788864110899.
The Emblem image is available on Wikimedia Commons where we have licensed it in public domain em>.
Remember that the contents of these publications do not necessarily represent the thoughts of the author, except of course when explicitly stated.