The opening image of this article is the first cover of the Secret Rome of the popes published by Newton Compton, where as the lonely image stands out our "usual" Emblem of the papacy, directly downloaded from Commons and, as usual in Italian publishing, devoid of any reference or attribution.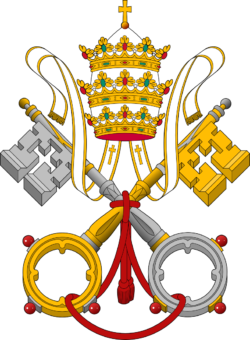 Bibliographic level: monograph.
Gabriela Häbich.
La Roma segreta dei papi, Alla scoperta delle tracce pontificie nell'arte e nell'urbanistica della Città Eterna.
Newton Compton Editori, 2009.
9788822708229 .