Shadow of the Beast II è il secondo capitolo di un videogioco dalla spiccatissima atmosfera onirica, miseriosa e con paesaggi suggestivi e fuori dal tempo. Si tratta di gioco a scorrimento orizzontale in terza persona a piattaforme, pubblicato da Psygnosis nel 1990 per Amiga e successivamente uscito per Atari ST, Sega Mega Drive, Mega CD e FM Towns.
Il secondo capitolo aumenta la scarsa giocabilità rispetto al predecessore (che risultava particolarmente difficile da terminare) e si concentra più sugli enigmi che sull'azione, che risultava molto ostica o macchinosa. Così come l'aspetto grafico, coi suoi effetti di parallasse e con gli sprite e le ambientazioni particolarmente curate, la colonna sonora, composta e prodotta da Tim Wright, rimane uno dei punti di foza della serie.
Come per tutti i prodotti Psygnosis, la confezione del gioco era di colore nero, arricchita dai disegni di un maestro quale Roger Dean. L'immagine di copertina è formata a sua volta dallo sfondo, il cui titolo è Sentinel (1990, acrilico su tela, 36 × 24 pollici), ispirato ai paesaggi desolati dello Utah e dell'Arizona, e da un gruppo di tre ranocchie meccaniche dipinte sempre nel 1990, acrilico su tavola, 30 × 20 pollici.
Copertina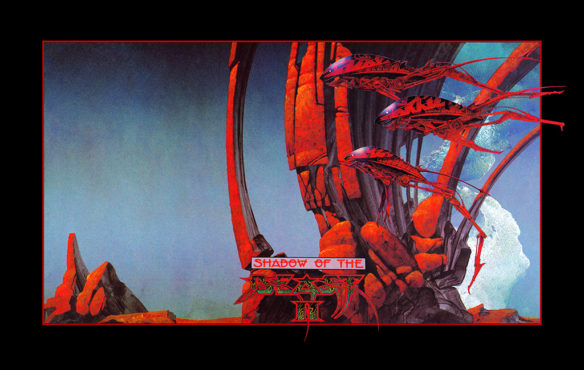 Collegamenti utili
Shadow of the beast 2 su Insert Coin
Shadow of the beast 2 su Retrogaming History
Avvertenze
Tutti i marchi, i nomi, i loghi e le proprietà artistiche appartengono ai rispettivi proprietari.
Qualora un proprietario di un marchio, un nome od una proprietà artistica non si sentisse tutelato del proprio diritto, questi è invitato a contattarci il prima possibile per la necessaria rettifica.