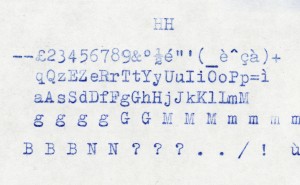 First commercial font: Italian Typewriter on MyFonts!
This font is a replica, as faithful as possible, of the typefaces of Olivetti and Serio Typewriters of the '30s. The set of glyphs we have subsequently extended with the addition of the Greek, Coptic, Cyrillic, phonetic symbols and many other Unicode ranges.
In particular complete Unicode 6.0 subsets are:
C0 Controls and Basic Latin
C1 Controls and Latin-1 Supplement
Latin Extended-A
Latin Extended-B
IPA Extensions
Spacing Modifier Letters
Combining Diacritical Marks
Greek and Coptic
Cyrillic
Latin Extended Additional
While many others are not complete. For a specific list of glyphs, see the related page on MyFonts.