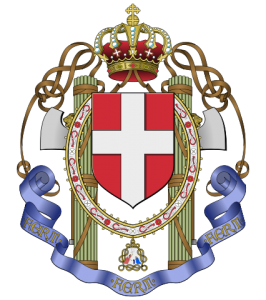 Picture of the coat of arms of Italy during the Fascist period on the back cover.
Bibliographic level: monograph.
Authors: Pierluigi Moncalvo and Giovanni Massimello.
Title: Araldica della Regia Aeronautica (Heraldry of the Italian Royal Air Force) – vol. 1.
Publisher: Gruppo Modellistico Trentino (Trentino Modelling Group), 2011.
ISBN: 978 88 902511 8 4.
Image of the coat of arms is available at Wikimedia Commons, which we licensed under public domain.