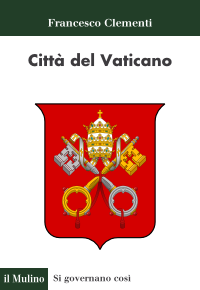 Image of the coat of arms of Vatican City in front cover.
Bibliographic level: monograph.
Author: Francesco Clementi.
Title: Città del Vaticano.
Publisher: Bologna, Il Mulino, 2009.
Series: Si governano così (Govern themselves in this way).
978-88-15-13151-5.
The image of the coat of arms is available at Wikimedia Commons, which we licensed under public domain.
Download
Link: Città del Vaticano – book cover in vector format (SVG)
File name: Citta-del-Vaticano-copertina.rar
File contents: Città del Vaticano – copertina.svg
File type: RAR compressed, SVG Scalable Vector Graphics vector image
Dimension: 54 kB